Taking the 'ism' out of FEMINISM by ArtStars* (Toronto/ Berlin)
ArtStars* by Nadja Sayej, Berlin/ Toronto
At this time of year, most eyes are on Berlin Art Week, but over in Vienna, there is one exhibition making a different kind of statement that is above and beyond your usual gallery experience.
Vienna-based artists Iv Toshain and Anna Ceeh are finally throwing forth a massive group show based upon a project idea they conjured up two years ago called FEMINismTC.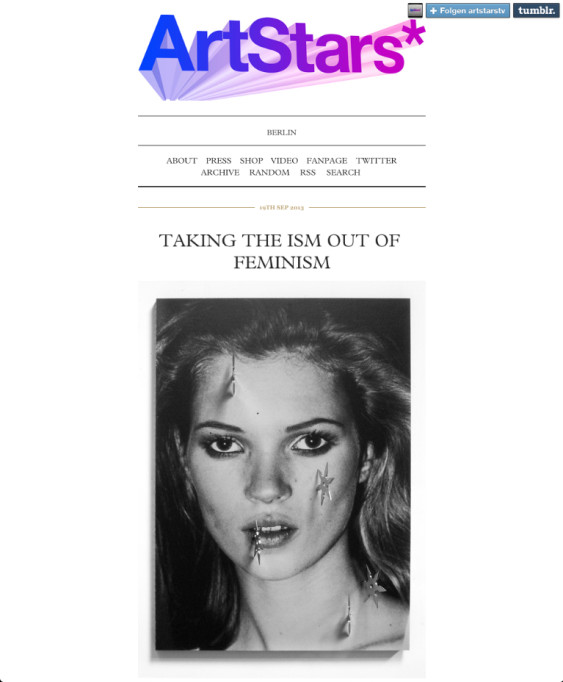 Their show – featuring big-name stars like Carolee Schneemann, VALIE EXPORT and Slava Mogutin – opens to the public tonight, featuring black-lit phrases splashed on the walls with spraypaint. All in all, they challenge the old school idea of feminism for something far spicier, leaving the words up to the artists to redefine or open up the conversation yet again.
Between installing the show and busy work meetings, Toshain and Ceeh took some time to sit down with ArtStars* and explain their show concept, how it came about and to spill some secrets on what we can expect to see opening this Thursday.
What's new around feminism, ladies?
We have amputated the ism, criticizing the ideology, undermining the female (FEMIN), which refers to the multiple meanings associated with the words: femin, feminine or woman, not real woman as such. Which means, that this words can be applied to male and transgender identities as well and everybody who identifies with them, they does not belong exclusively to the identification of the female. In this sense our central strategy is the integration of male and queer positions with the aim of opening up new spaces of thought. Social reflection is thus freed from the corset of binary thinking (man – woman, power – oppression). FEMINismTC
stands for total openness, infinite embrace and rejection of doctrinal rigidities.
I see. How did this project begin?
We started our project two years ago. We met in a typical Viennese Café called Drechsler, and brainstormed about our visions and beliefs, discovering a lot of cross-sections and similarities based partially on the fact that we both have studied together at the Franz Graf master class at the Academy of Fine Arts in Vienna, and both of us came from east Europe (Bulgaria and Russia). So, we had something to say and decided to start an art project which is "not just another exhibition." What you will see at the show opening this Thursday is the tip of an iceberg, the rest is tons of work behind the scenes – every day emails, concepts exchange and synergies.
You've had success with the t-shirt campaign. Could you tell us more about it?
Our activist limited edition t shirts are hand-sprayed, most important see-through and unisex. Through this project we aim to transfer our personal FEMINismTC message to the public domain, as well as pop culture (in particular sonic culture and merchandising), fashion and fashion campaign contexts, which are by default instrumentalizing the image of desire in a very unpersonal way. These t-shirts are "messengers" and the easiest way to inject our idea about FEMINismTC reconnecting domains like identity politics, contemporary art, pop culture, as well as mainstream and youth cultures. We distribute these limited-edition activist artifacts to opinion leaders (artist, curators, art historians, fashion designers, musicians etc.) as well as to all participating artists in our exhibition. A portrait series will be presents next year to the public. The next step is a wider distribution to a wide variety of people (women, men, teenagers, students, transgender, families, fashion addicts, workers etc.) who want to follow and represent the idea of FEMINismTC.
What can we expect to see at the show opening September 19?
Expect nothing material, not just another exhibition, no drawings and no paintings on the wall. Expect presence and absence. The artists were invited to develop one statement, slogan or message concerning the topic/concept of FEMINismTC.
Inside, there is a completely empty exhibition space with only stencils that say "POST NO BILLS." Then, suddenly the artist slogans render all visible, sprayed in bright red covering the whole 10-meter-long wall. One minute they appear and they disappear without a trace again, but the messages did already "burn a hole in your brain" – they stay in your mind and the walls are empty.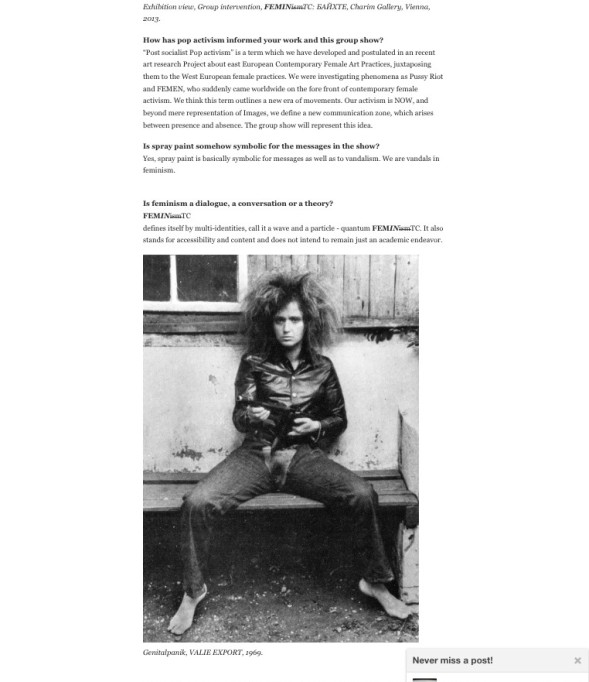 How has pop activism informed your work and this group show?
"Post socialist Pop activism" is a term which we have developed and postulated in an recent art research Project about east European Contemporary Female Art Practices, juxtaposing them to the West European female practices. We were investigating phenomena as Pussy Riot and FEMEN, who suddenly came worldwide on the fore front of contemporary female activism. We think this term outlines a new era of movements. Our activism is NOW, and beyond mere representation of Images, we define a new communication zone, which arises between presence and absence. The group show will represent this idea.
Is spray paint somehow symbolic for the messages in the show?
Yes, spray paint is basically symbolic for messages as well as to vandalism. We are vandals in feminism.
Is feminism a dialogue, a conversation or a theory?
FEMINismTC  defines itself by multi-identities, call it a wave and a particle – quantum FEMINismTC. It also stands for accessibility and content and does not intend to remain just an academic endeavor.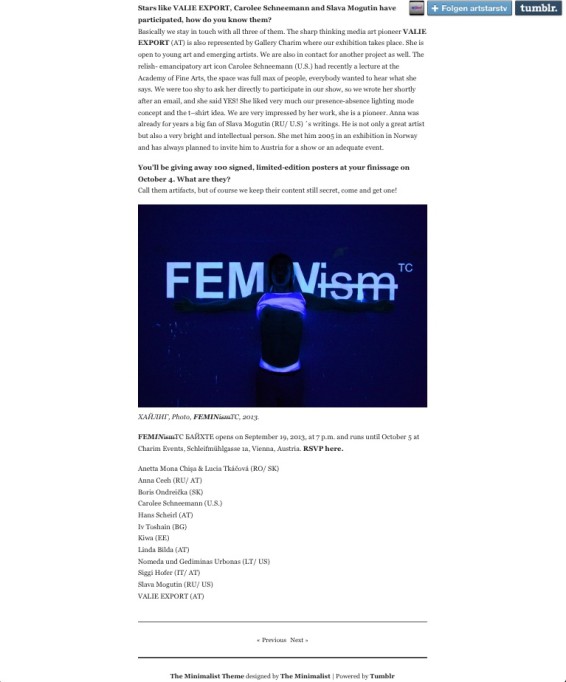 Stars like VALIE EXPORT, Carolee Schneemann and Slava Mogutin have participated, how do you know them?
Basically we stay in touch with all three of them. The sharp thinking media art pioneer VALIE EXPORT (AT) is also represented by Gallery Charim where our exhibition takes place. She is open to young art and emerging artists. We are also in contact for another project as well. The relish- emancipatory art icon Carolee Schneemann (U.S.) had recently a lecture at the Academy of Fine Arts, the space was full max of people, everybody wanted to hear what she says. We were too shy to ask her directly to participate in our show, so we wrote her shortly after an email, and she said YES! She liked very much our presence-absence lighting mode concept and the t–shirt idea. We are very impressed by her work, she is a pioneer. Anna was already for years a big fan of Slava Mogutin (RU/ U.S) ´s writings. He is not only a great artist but also a very bright and intellectual person. She met him 2005 in an exhibition in Norway and has always planned to invite him to Austria for a show or an adequate event.
You'll be giving away 100 signed, limited-edition posters at your finissage on October 4. What are they?
Call them artifacts, but of course we keep their content still secret, come and get one!