"YES LOGO: ON THE REVIVAL OF LOGOMANIA", BLOUIN ARTINFO CANADA
YES LOGO: ON THE REVIVAL OF LOGOMANIA
at BLOUIN ARTINFO CANADA
 by Rea McNamara
16/10/13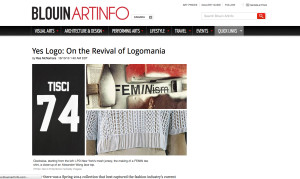 If ever there was a Spring 2014 collection that best captured the fashion industry's current nineties moment, it was Alexander Wang's New York Fashion Week show, and his bold revival of the era's logomania. The Balencianga creative director — among the wave of young rockstar designers now helming heritage houses — reveled in stamping his blocky, extra-black logo on laser-cut leather trenches and weighty guipure lace tops. "I grew up in the nineties when everything was about blatant advertising," explained Wang to WWD. "So I said, 'how do we take that and do it in our way?'"
Indeed, the nineties' logo-laden street style signaled not only the arrival of a brand's star status, but also a blue chip uptick in its licensing deals. The logo look's head-to-toe climax, of course, was best worn amongst hip hop's nouveau riche, whose luxury tastes were first cultivated via the fake Gucci track suits and Louis Vuitton leather bombers made by the godfather of hip hop style, Dapper Dan. As Jay-Z explained to Lisa Robinson in her November 2013 "Vanity Fair" cover story on the rapper, the culture's flaunting of luxury goods was a flexing of the American dream, especially potent for those like him who came from the backblocks of a Brooklyn marked by poverty, and weakened by the 1980s crack epidemic, rampant racism, and violence: as Jay-Z put it, "we were broke, and we wanted to pretend we weren't."
In that context, the American dream took the form of donning affordable-yet-seemingly-authentic luxury fakes, knock-offs, and counterfeits. The latter pops up as a reference point in the recent collaboration between Versus Versace and M.I.A.: the brazenly kaleidoscopic-print capsule collection (19 pieces strong) was inspired by the Versace counterfeits the British rap artist encountered in East London markets when she was a teen. "It's always been part of the M.I.A. culture to talk about bootlegs, and people that sell them or make them," she said in a statement. "Versace designs have always been bootlegged, and now it's Versace bootlegging the bootleg for the bootleggers to bootleg the bootleg. This is to keep that cycle going."
To discuss the prevalence of the logomania revival, then, is to delve into its bootlegs. In Nicole Phelps's Style.com review of Wang's show, she described his designer branding as "delightfully meta," especially in the face of the ongoing streetwear preoccupation for high fashion parodies. In fact, it's more akin to an insider joke played out by the outsiders. Consider Brian Lichtenberg's appropriation of the Hermès Duc carriage logo for a Homiés low rider pick-up truck, or LPD New York's faux sport team mesh jerseys, where faithful followers of fashion can represent their Team Tisci, Team Wang, or Team Philo allegiances. Whereas some designers like Dolce & Gabbana have sent cease-and-desist letters for the fabrication of these imitation jerseys, others, like Givenchy creative director Riccardo Tisci, felt flattered by the gesture, and as a professed streetwear fan, also got its irony. (The proof can be found in Tisci posting a "Team Tisci" jersey on his Instagram feed; and the Givenchy Paris office reportedly ordered a batch of the LPD New York jerseys for their store.)
LPD New York designer Benjamin Sydney Fainlight sees the jerseys as tapping into the emerging, brash celebrity of heritage houses' creative directors. While designers like Wang and Tisci aren't necessarily ubiquitous mainstream brand names in their own right, they are gaining prominence among "people [who] are beginning to respect them as artists"; they're no longer just the shadowy presences behind "the end product," he explains in an interview with BLOUIN ARTINFO Canada. Fainlight agrees that this moment forms a throwback to what he terms a "walking billboard for Chanel" look; but he also thinks it more saliently taps into consumer's fascination with bootleg culture.
"Probably to a certain extent [this] is the result of irony," Fainlight says. "I think that people probably respond on some level to the idea of wearing a T-shirt that says Margiela [but is] actually not Margiela, and the fact that Margiela would never put a name on his T-shirt." As a result, luxury status is no longer flaunting the real, but the fake that revels in its own fallacy: "people aren't as obsessed with getting the big Chanel bag from Chinatown that really looks like a Chanel … they almost want something that's quote-un-quote referencing or inspired by — but pretty obviously not — Chanel."
The logomania revival operates within a liminal, post-"No Logo" space. It's a context, however, shaped by the establishment's tastes. Consumers, luxury-goods makers, and even fashion critics now judge creative directors on how well they're able to rehash the age-old signatures of a heritage house, while infusing it with their own (or appropriated) flourishes. It's how Marc Jacobs can open his recent Louis Vuitton Spring 2014 runway collection with a model-cum-showgirl in Victorian black-feathered headdress, wearing only a sheer bodystocking emblazoned with Stephen Sprouse graffiti. The reference is a self-congratulatory homage to one of Jacobs's greatest it's-Louis-Vuitton-but-it's-not-Louis-Vuitton coups: Sprouse was one of Louis Vuitton's first guest artists back in 2001, and besides spearheading the art-meets-fashion collaboration, was part of Jacobs transforming the formerly staid luggage-and-trunks label into one of fashion's most desirable labels. This coincided with the ravenous luxury appetites of the BRIC markets; the pendulum, however, appears to have now swung, since Jacobs's departure was marked by the dwindling prestige of the LV monogram print. In China, the still-growing consumer base is already over it, proving that as much as you can chop and screw a heritage house logo, it's still the same old LV, and perhaps even a fitting penance for a label known for its "trademark bullying."
Marcus Boon, a writer, journalist, and professor at York University, wrote on the phenomenon of "fake" Louis Vuitton bags in the opening chapter of his 2010 book, "In Praise of Copying." He argues that the difference between an original and its copy is an elusive process. (As Boon notes, the next Louis Vuitton guest artist, Takashi Murakami, slyly played with this notion when his 2008 Brooklyn Museum retrospective included a fake Canal Street display selling knock-offs of his LV bags.) Boon ultimately makes the point that disavowing the unauthenticated Louis Vuitton bag and other cultures of copying (see depropriation, the supposed-"uncreativity" of Kenneth Goldsmith) is obscuring a deeper understanding in how cultures and subcultures are defined by appropriation and imitation.
In an email interview, Boon believes that today's logomania revival is steeped in "nostalgia for the kinds of crude packaging and marking of previous decades, where marking the objects that we live with, whether clothes or other accessories, actually seemed meaningful." As our lives become increasingly tagged and labeled online, Boon believes that the offline branding process becomes "less important," but acknowledges that "a decade of generic 'no logo' style, stuff like American Apparel" reveals a "certain hypocrisy": "it's not like those generic clothes don't involve branding strategies."
The art project FEMINismTC, however, suggests how a contemporary culture increasingly preoccupied with the tenets of shareable content — where "going viral" operates as a powerful commerce and culture engine — encourages the convergence of street wear with high art. Vienna-based artists Anna Ceeh and Iv Toshain hijack the very premise of fashion's logo branding — sans irony, but with the "TM" being replaced by their "TC" initials as their faux trademark, obviously marked by a satirical sense — in simple T-shirts that unpack and make accessible identity politics in a playful yet intimate way.
"The logo per se is an innovative wordplay," explains Toshain in an interview prior to their most recent group intervention at Charim Galerie during VIENNAFAIR, where slogans and messages developed by artists like Carolee Schneemann and VALIE EXPORT were revealed in a black light installation. The "graphic deconstruction," in Toshain's words, represents "the total clash" of the project, which saw Heinz and Margit Fischer, the president and First Lady of Austria, respectively, become the T-shirt's latest models. "We criticize feminism and ideologies shoulder-to-shoulder with commercial culture, and it's put it out there as a fashion art piece. All categorizing is kind of broken, and people love it because of this."
In some ways, this seems to speak for the renewed but nuanced appetite for a logo's bold, in-your-face typography: it's loud, brash, seemingly anti-fashion, and represents a very visible barometer of a culture's ever-changing currency of ideas and value systems. The symbols and semiotics are still there, but twisted, perverted, and even refashioned to suit the needs of the new-establishment designers and artists. There's no need for authentication here — we're spinning in a cycle whose initial focal point has long expired.