"ПРЕЙЪР": OPENING & LAUNCH PARTY MARCH 3rd, 8PM
FEMINismTC: ПРЕЙЪР
March – April 2014
PUBLIC ART PROJECT IN THE URBAN SPACE OF VIENNA

OPENING & LAUNCH PARTY MARCH 3rd, 8PM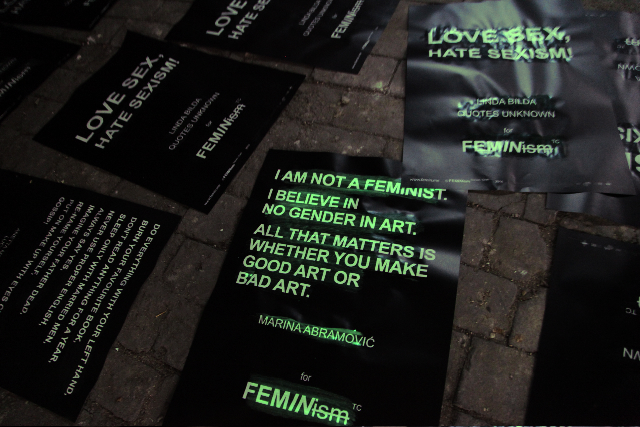 In a first, the exhibition space of the Passagegalerie will remain completely empty for an opening.
Künstlerhaus Passagegalerie is hosting beats and an exclusive live set against the backdrop of empty white walls. Art will create space, go viral, and occupy all 23 Vienna districts.
For this KÖR Public Art GmbH funded project, Toshain/ Ceeh have invited acclaimed as well as young international artists to create slogans and messages based on the idea of FEMINismTC. The artist duo will transform them into four thousand manually coated noctilucent A1-sized posters.
Displayed in public spaces for a period of one month, they will create luminescent switch points of views and controversial thought around the city. Vienna's 23 districts will be turned into an exhibition space for original "paintings" that are sent on a journey of their own as site specific artifacts.
Capturing natural daylight and shining it into the night, they will gradually be torn and pasted over, but the afterglow of their messages will live on.
Slogans will be created specifically for FEMINismTC: ПРЕЙЪР (the name  represents both a semiotic  sign and  the transcription  of the word "prayer" in cyrillic script ) by:
Marina Abramovic (US),  Linda Bilda (AT), Anetta Mona Chisa & Lucia Tkacova (RO/ SK), Boris Ondreicka  (SK), KIWA (EE), Siggi Hofer (AT/ IT), Slava Mogutin (U.S./ RU), Olaf Nicolai (DE), VALIE EXPORT (AT), Iv Toshain (BG), Anna Ceeh (RU/ AT)
CONCEPT/CURATED BY: Toshain / Ceeh
LOCATION: Künstlerhaus Passagegalerie, 1010 Karlsplatz 5, Vienna
LIVE SET: DJ SOTOFETT/ SEX TAGS MANIA (NO)
OPENING WORDS: Brigitte Huck
WHEN: March 3rd, 2014, 8 PM
SPONSORED BY: KÖR Kunst im öffentlichen Raum GmbH, BMUKK, BKA Frauenangelegenheiten und Gleichstellung, MA57, STADT WIEN MA7, IKT, VATNC