ARTCONNECT BERLIN (Berlin): FEMINi̶s̶m̶ in Vienna, by Anne Nicolai
FEMINism IN VIENNA,
by Anne Nicolai
March 28, 2014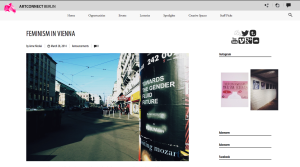 Can you imagine how it would look to have 4,000 glow-in-the-dark posters up? Well, we think it would look pretty awesome! The Vienna-based art label FEMINismTC realised this in Vienna's 23 districts for their public exhibition called ПРЕЙЪР ( = Bulgarian for 'Prayer'). Read on for a little more information!
The exhibition features 12 different posters with messages related to feminism. A few of them are shown in the pictures below. Artists
such as Olaf Nicolai (DE), VALIE EXPORT (AT), Marina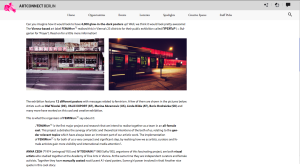 Abramovic (US), Linda Bilda (AT), Boris Ondreicka (SK) and many more have worked on this cool and creative exhibition.
This is what the organisers of FEMINismTC say about it:
.."FEMINismTC is the first major project and research that we intend to realise together as a team in an all-female cast. This project substrates the synergy of artistic and theoretical intentions of the both of us, relating to the gender relevant topics which have always been an imminent part of our artistic work. The implementation of FEMINismTC is for both of us a very compact and significant step, by realising how we as artists, curators and female activists gain more visibility and international media attention."..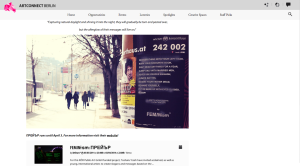 ANNA CEEH (*1974 Leningrad/ RU) and IV TOSHAIN (*1980 Sofia/ BG), organisers of this fascinating project, are both visual artists who studied together at the Academy of Fine Arts in Vienna. At the same time they are independent curators and female activists. Together they have manually coated noctilucent A1-sized posters. Some girl power involved in that! Another nice quote in this cool story:
"Capturing natural daylight and shining it into the night, they will gradually be torn and pasted over,

but the afterglow of their messages will live on."