ArtStars* (Toronto/ Berlin): Conceptual Street Art, its Paste-Ups with a Twist
Conceptual Street Art, its Paste-Ups with a Twist
by ArtStars*/ Nadja Sayej (Toronto/ Berlin)
Apr 2, 2014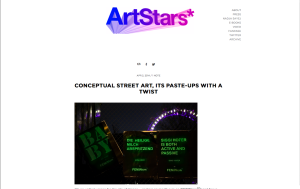 It's an unlikely scene for the city of Vienna – posters saying "I cum on FEMINismTC" and "Love sex, hate sexism!"
These glow-in-the-dark florescent posters are not advertising, rather they are part of a public art project by FEMINismTC, a pretty badass art label.
Badass because they have an ongoing knack for stirring up the status quo. Now, the label has pasted up 4,000 posters around Vienna's 23 districts, from market to universities, showcasing the slogans and messages of eight artists who respond to the idea of FEMINismTC.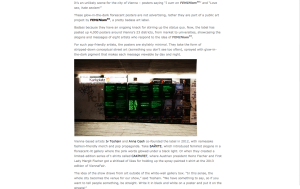 For such pop-friendly artists, the posters are stylishly minimal. They take the form of stripped-down conceptual street art (something you don't see too often), sprayed with glow-in-the-dark pigment that makes each message viewable by day and night.
Vienna-based artists Iv Toshain and Anna Ceeh co-founded the label in 2012, with namesake fashion-friendly merch and pop propaganda. Take БАЙХТЕ, which introduced feminist slogans in a florescent-lit gallery where the pink words glowed under a black light. Or when they created a limited-edition series of t-shirts called САКРИЛЕГ, where Austrian president Heinz Fischer and First Lady Margit Fischer got a shitload of likes for holding up the spray-painted t-shirt at the 2013 edition of ViennaFair.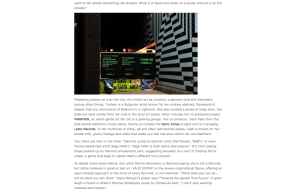 The idea of the show draws from art outside of the white-wall gallery box. "In this sense, the whole city becomes the venue for our show," said Toshain. "We have something to say, so if you want to tell people something, be straight. Write it in black and white on a poster and put it on the streets!"
Plastering posters all over the city, the artists act as curators, organizers and shit disturbers, among other things. Toshain is a Bulgarian artist known for her striking abstract, florescent-lit shapes that are reminiscent of Malevich in a nightclub. She also created a series of ninja stars. Her balls-out style comes from her cred in the local art scene, which includes her co-produced project PARKFAIR, an avant-garde art fair set in a parking garage. Her co-producer, Ceeh hails from the post-Soviet electronic music scene, having co-created the Sonic Zones project and co-managing Laton Records. In her multitude of video, gif and often self-portrait pieces, Ceeh is known for her breast milk, grainy footage and shots that make you feel lost even within her own bedroom.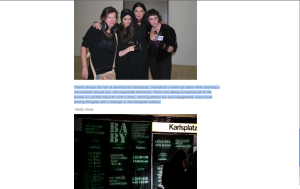 Yes, there are men in the show. Take the quote by German artist Olaf Nicolai, "BABY," or even Vienna-based text artist Siggi Hofer's "Siggi Hofer is both active and passive." It's ironic seeing these posters up by Vienna's amusement park, suggesting sexuality as a sort of rotating Ferris wheel, a game that begs to repeat itself a different time around.
As stated many times before, star artist Marina Abramovic is featured saying she is not a feminist, but rather believes in good or bad art. VALIE EXPORT is the always-inspirational figure, offering an open-minded approach to the mind of every feminist, or non-feminist. "Think what you can do – not do what you can think." Slava Mogutin's poster says "Towards the gender fluid future." A good laugh is found in KIWA's fictional philosophy quote by Immanuel Kant, "I can't stop wearing mascara and lipstick."
There's always the risk of seeming too intellectual, theoretical or even out-dated when sparking a conversation around any -ism (especially feminism). That's why taking conceptual art to the streets is a perfect place for such a show, which questions our own engagement, even if just sharing thoughts with a stranger in the Karlsplatz subway.