FUCKi̶s̶m̶ Toshain / Ceeh : "КОНФЭШН" at Pink Flamingos, Lisbon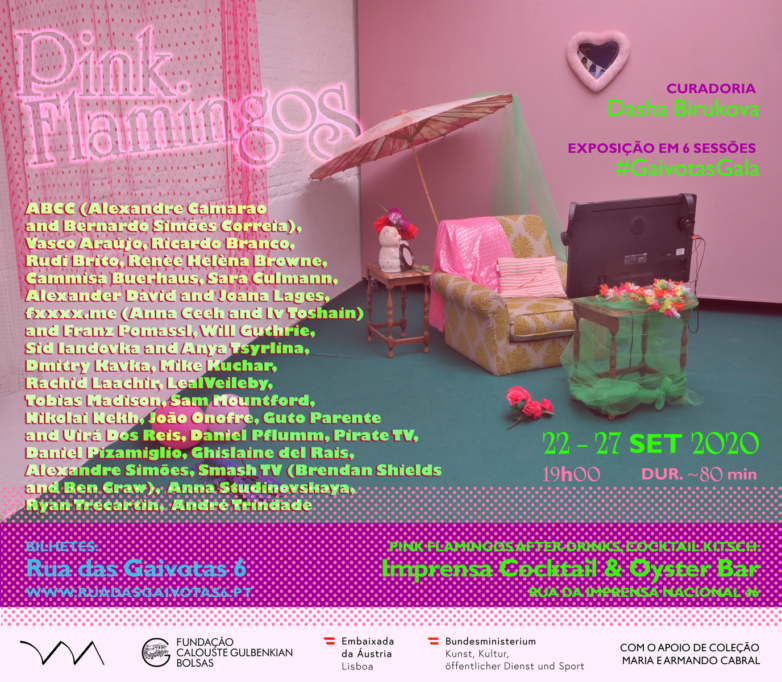 The Austro – Russo-Bulgarian artist duo FUCKismTC, well known for their subversive site specific installations and Red Square Guerilla Performance, will show a brand new work in Portugal named FUCKismTC: КОНФЭШН ("confession / con-fashion" written with Cyrillic letters). The performance is based on the project БАЙХТЕ (@Charim Galerie, Vienna 2013), where they cooperated with several amazing artists among others Carolee Schneemann, VALIE EXPORT, Hans Ashley Sheirl.
Sound by Franz Pomassl.















picts @ Alipio Padilha and FUCKismTC
Slogans by:
ANETTA MONA CHIŞA & LUCIA TKÁČOVÁ (RO/ SK): "YELL OR WHISPER"
HANS SCHEIRL (AT): "PHALLOPLASTIC PLAYSPACE PARTY"
SLAVA MOGUTIN (RU/ U.S.): LOST BOYS"
VALIE EXPORT (AT) :GENITALPANIK"
CAROLEE SCHNEEMANN (U.S.): IS IT GOOD FOR YOUR VULVA"
BORIS ONDREIČKA (SK): FRIHETSTIDEN 1718-1772"
KIWA (EE) "I CAN'T STOP WEARING MASCARA AND LIPSTICK. IMMANUEL KANT."
LINDA BILDA (AT): "LOVE SEX HATE SEXISM"
JOHN WATERS (US): "CONTEMPORARY ART HATES YOU"
IV TOSHAIN: " I CUM ON FUCKISMTC"
ANNA CEEH: "COPULATING RHYTHM OF THE UNIVERSE. W. BURROUGHS"
PINK FLAMINGOS curated by Dasha Birukova
Participants:
ABCC (Alexandre Camarao and Bernardo Simões Correia), Vasco Araújo, Ricardo Branco, Rudi Brito, Renèe Helèna Browne, Cammisa Buerhaus, Sara Culmann, Alexander David and Joana Lages, fxxxx.me (Anna Ceeh and Iv Toshain) with Franz Pomassl, Will Guthrie, Sid Iandovka and Anya Tsyrlina, Dmitry Kavka, Mike Kuchar, Rachid Laachir, LealVeileby, Tobias Madison, Sam Mountford, Nikolai Nekh, João Onofre, Guto Parente and Uirá Dos Reis, Ghislaine del Rais, Pirate TV, Daniel Pizamiglio, Alexandre Simões, Smash TV (Brendan Shields and Ben Craw), Anna Studinovskaya, Ryan Trecartin, André Trindade.
Back in 1964, Susan Sontag wrote in her "Notes on Camp" that there is a sort of sensuality, "a kind of perversion, but unlikely to identify with it – known as the cult, called camp". A sort of sensuality that is reflected in love for the unnatural, the artificial and the exaggerated, that embodies a triumph of "style" over "content", "aesthetics" over "morality", irony over tragedy. Camp begins to inspire once you realize that "sincerity" on its own is not sufficient. Aesthetic standards of camp are manifested in artificiality and theatricality as an ideal. Sensitivity to camp is only possible in societies of abundance that are capable of experiencing the psychopathology of excess.
50 years later, essentially nothing has changed, and camp continues to exist in art and in popular culture, moreover, it continues to be a kind of worldview. In a context of total dominance of "text" in culture, there is an acute shortage of visual sensuality, and a redundancy coupled with pretentiousness reflect this new sensibility.
Bad taste, which on the one hand is to be avoided, but on the another, is impossible to deny oneself the pleasure of loving, has now been transformed into a cliché as an aesthetic model, and this cliché has become a product. The concept of "taste" has ceased to be a meaningful category, and bad taste has become the object of veneration, a new aesthetic object, based on the distinction between high culture and mass media. Examples of high culture have been transformed into popular culture and have become variations of clichéd images. For instance, Wagner's music became the leitmotif of Darth Vader, and reproductions of Kandinsky appeared on the packaging of R.O.C.S. toothbrushes. Beauty has become vulgarity, and vulgarity has ceased to be something vicious due to camp. This is an important step towards investigating the boundaries of the taste. Camp transforms everyday items into objects of worship, turning them into works of art. Camp is a cult that uses an alternative sensibility that now transmits a whole range of messages, from the collapse of the capitalistic system to worldwide gender/race oppressions, and transgresses conventional ideas about the "naturalness" of gender, taste, race and sexuality.
2019 became a year of "camp" celebration: John Waters (father of camp) is to receive the Pardo d'onore Manor award during the 72nd edition of the Locarno Film Festival; the Met Museum organized an exhibition entitled "Camp: Notes on Fashion" that re-explored a style of excess; moreover, they dedicated the Met Gala to camp, thus creating a sort of "metacamp" situation. We will continue this celebration in Lisbon with an exhibition project called "Pink Flamingos" that will be displayed in 6 sessions at the Rua das Gaivotas 6.
*The title of the exhibition refers to John Waters' movie "Pink Flamingos", which is a main example of camp in cinema.
The exhibition was realized with the generous support of Calouste Gulbenkian Foundation; Embaixada da Áustria em Lisboa; Bundeskanzleramt und Bundesministerien Österreich; Departement Cultuur, Jeugd en Media, Flanders; Maria and Armando Cabral collection.